For some the calendar is based on the sun; for some, the moon. For we of the Tube project, the calendar is loosely tethered to the inscrutable workings of the Hampshire College academic year. Hosted as we are by its Computer Graphics Incubator Space, the project has fallen under the influence of local rhythms. In the crunch to get ready for the ambitious schedule on which we embark with the start of this new term, the blog has fallen a bit quiet — so there is a backlog of cool developments to relate!
Tube is in part an experiment in distributed collaboration, with a team spread all over the globe, but we also have a great and growing cluster of people collected at the "drome". Look out for numerous additions to the 'team' page, including several satisfying adjustments to the chromosomal divide. We have also been very pleased to welcome Jarred de Beer back from South Africa for a second stint, upgraded from Intern 3D Generalist to Senior Vice Volunteer. And in more good news, yesterday his travel papers came through, so Pablo Lizardo joins us next week from Argentina!
Before things really heat up around here, Bassam and I took a little holiday to visit family in the UAE. On the way back, a long layover in Amsterdam allowed us to drop in at the Blender Institute where the Durian open movie is underway.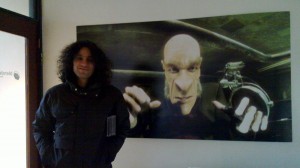 Ton kindly made us coffee and invited us to Durian's morning meeting. They are hard into the grind, and we wish our brave compadres all the best with their fantastical enterprise!
Updates about the exciting progress of our own work will follow soon, stay tuned.