Hi,
I have created another small free models pack. They are under CC licence again. You can use them in your personal, commercial projects without worrying about any fees. For more details and possible restrictions please check out the included .txt files. The only main restriction on these models is that you cannot sell these models under yoruname or someone else`s name.
Here is a supposedly funny render that depicts the content.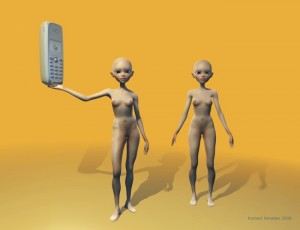 Here is a turntable
Free Female and CellPhone Model (Blender scene) from freeartsculture_kursad on Vimeo.
For more details you can check out my sharing page.
http://share.plecxus.com
The girl model
http://shup.com/Shup/250527/Femail_Share.zip
The old clunky cell phone model